I read a lot of blogs and watch a lot of beauty videos on Youtube, and when I see something that I like or that I think will work for me, I grab my phone and add it to what I like to call me "Wonderlist." I figured out long ago that my phone is the best place to keep this list because I always have my phone with me when I'm out shopping. I thought I'd start off my blog by sharing my innermost beauty must-haves with you :)
.
1.
EOS lip balm in Tangerine
: This is a really simple thing that I want to try. I'm totally addicted to the EOS brand of lip balm, and their new tangerine flavor is no exception! The EOS lip balms come in fun scents, and I've always found them to be really moisturizing and tasty (not that you should be eating lip balm...Whoops.)
Spring is technically here, but it's still chilly here in Texas (sadly...) and my lips are still prone to being chapped. When I finish my current EOS lip balm in the flavor Sweet Mint, I'm going to pick this one up! If you know where I can get my hands on this flavor, please let me know because I haven't seen it at Ulta yet!
Revlon Lip Butters in (Left to right) Peach Parfait, Cherry Tart, and Berry Smoothie
Photo from Walgreens.com
2.
Revlon ColorBurst Lip Butters
: I know, I know. I'm WAY late on this trend. EVERYONE on Youtube has been talking about these lip butters, and I have yet to try any of them. I'm hoping to soon get my hands on these bad boys in the shades Cherry Tart, Peach Parfait, and Berry Smoothie.
Maybelline Color Tattoo 24HR Eyeshadow in Bad to the Bronze
Photo Credit: Target.com
3.
Maybelline Color Tattoo 24HR Eyeshadow:
This is another item that I have been late to jump on the bandwagon. I've seen gurus on Youtube compare these to the MAC paint pots, which is a HUGE compliment to Maybelline, but also a lot for them to live up to. I think that's why it's taken me so long to buy them; I'm worried that I won't like them. I'm hoping to pick a couple up though, because the $5.84 Target price tag on these is a lot cheaper than MAC paint pots! I'll probably pick up the eyeshadows in the colors Bad to the Bronze, Bold Gold, and possibly Too Cool.
Suave Professionals Dry Shampoo
Photo from Suave.com
4.
Suave Professionals Dry Shampoo
: I've never tried a dry shampoo, and I saw this one on a blog and thought I'd try it. I'm super anal about having clean hair, and as a college student, I know how important it is to look good in a short amount of time. It can't hurt to try a dry shampoo and at a $2.60 price tag from Target, it's a great deal!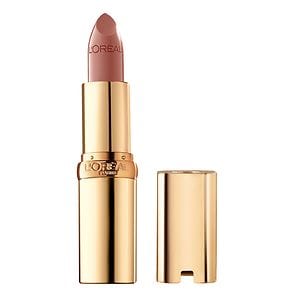 L'Oreal Color Rich Lipstick in Fairest Nude
Photo Credit to Drugstore.com
5.
L'Oreal Color Rich Lipcolor in Fairest Nude
: I saw a swatch of this on a blog and immediate thought "Oh my gosh!!! MUST HAVE!!!" It was so pretty, and I'm hoping that it will be a nice shade on my lips!
Be warned:
The rest of this wishlist should just be called "Katie's nail polish addiction wishlist". . I just wish nail polish wasn't always so darn expensive...
Essie Luxeffects Top Coat in Shine of the Times
Photo from Amazon.com
6.
Essie Luxeffects Top Coat in Shine of the Times:
SO PRETTY! I saw swatches of this on a nail polish blog, and completely fell in love! From the picture above, it's probably impossible to see how pretty it is. You really have to swatch the color to see how much it sparkles. It has these really pretty sparkles that shift color, making it a really diverse top coat that looks good on any base color. I've had my eye on this nail polish for a while, and each time I go to buy it, I keep convincing myself that I don't need it until I see swatches online of it and convince myself that I do need it.
*
Here is a link to a blog
that I'm in love with. She does wonderful swatches of this top coat, although I'll warn you now: Once you see the swatches, you'll want the polish!
Essie A Crewed Interest
Photo Credit from Essie.com
7.
Essie A Crewed Interest
: This is a peachy pink polish that just came out from Essie in their Sprink 2012 collection. Pastels are IN for the spring and I don't have anything like this, so obviously in my mind that means that I need it :)
8.
OPI Nicki Minaj Minis Nail Polish 4-pack
: When I first saw this collection, I was on the hunt for a light, opaque pink, and fell in love with Pink Friday from the Nicki Minaj collection that just came out from OPI. I also liked the teal blue, Fly, from the collection. I figured my best bet was to get the minis, and then see how much I actually liked and how often I would really wear the colors before committing $8.50 for each full size bottle. Not to mention that I don't have anything like these 4 colors, so it's not a complete waste at all!
China Glaze Electropop Collection in (left to right) Sweet Hook, Wicked Style, and Dance Baby
Photo Credit to eNailsupply
9.
China Glaze Electropop Collection in the colors Wicked Style, Dance Baby, and Sweet Hook
: I've looked at so many swatches of this collection and can't take my eyes off of them. Wicked Style isn't completely unique, but it's a beautiful color that screams "Katie's got to have it!", Dance Baby fulfills my hunt for an opaque light pink, and Sweet Hook fits my love of the color purple, not to mention I don't have a purple like it (although I have a LOT of purple shades!).
China Glaze Prismatic Chroma Glitter in Optical Illusion
Photo from Nailsupplies.us
10. China Glaze Prismatic Chroma Glitters in Optical Illusion: This nail polish doesn't come out until April, but it sure is sparkly! It's such a pretty sea foam green too, which is unique. I'm going to try to get my hands on this polish when it comes out.
That's it. These are the items that I've got my eyes on and that I hope to get soon. When I was looking these items up for this blog post, I noticed that Ulta had a alot of these items on sale! They also have a coupon for $3.50 off of a $10 purchase, which doesn't expire until March 31st. Looks like I might be visiting Ulta soon to get my nail polish fix!!!
I feel my wallet getting lighter as I speak...